The official site of Open Society Sarda is started
Since May, 1st, 2006, in a network the Internet has begun the existence an official site of Open Joint-stock company Sarda (Arzamas, the Nizhniy Novgorod region). It is accessible to the address - www.sarda.ru.
On a site firm news, the description of activity of firm are presented, its founders, are presented product samples, firm collective, partners and many other things.
pleasant viewing.
Опубликовано: 03.05.2006
Certificate ISO 9001:2000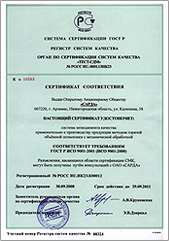 To look in the full size