News from a network the Internet: the New Russian-German enterprise for manufacture of details by hot punching is planned to open in Arzamas
How the director of new manufacture Oleg Mazaev, while plans modest enough. The necessary equipment is now delivered, and there are works on its preparation for installation. This year is planned to begin manufacture but while on it while 25 persons will be occupied all nearby. "Under plans manufacture already should start to operate, but for various reasons it is postponed. Therefore I not undertake to speak about through what time we can leave on a total power. Actively works on enterprise creation have begun only in 2004", - has noted O.Mazaev.
Details which it is planned will make on Open Society "Сарда" are intended for the Arzamas instrument-making factory which became the initiator of creation of the enterprise. Investors of a steel German and the Russian firms. Arzamas has been chosen also because in a city there are also requirements for details of hot punching, both possibility and shots, has told in conclusion of O.Mazaev.
the Source: RIA "Kremlin"
Опубликовано: 24.05.2006
Certificate ISO 9001:2000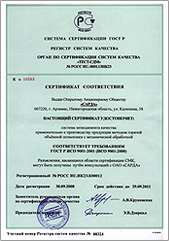 To look in the full size